Raise your glasses, ladies and gentlemen, because we are about to start a journey where style meets spirits and creativity collides with shots!
Whether you're hosting a lively party, curating a trendy bar, or seeking the perfect promotional merchandise for your brand, decorative and designer shot glasses are the ultimate way to make a lasting impression.
And guess what?
We've got the insider scoop on how to find the perfect shot glass that aligns seamlessly with your unique brand identity.
Did you know that on average, the percentage of U.S. adults aged 18 and older who say they drink alcohol averaged 63% over the past two years shots are consumed worldwide?
With such a staggering number, it's no wonder that shot glasses have become more than just vessels for downing liquid courage.
They have evolved into miniature works of art, capable of reflecting your brand's personality and making a statement that resonates with your audience.
In this article, we'll explore the fascinating realm of decorative and designer shot glasses, from understanding their diverse styles to choosing the ideal design for your specific needs.
We'll also reveal the secret to acquiring these unique shot glasses and provide expert care tips to ensure they maintain their beauty shot after shot.
So, if you're ready to elevate your brand presence and take your shot game to the next level, let's dive right in and uncork the world of decorative and designer shot glasses!
But before we do, remember to grab your favorite shot glass and pour yourself a celebratory shot – you're about to embark on a thrilling journey of creativity, style, and a touch of whimsy.
What Are Decorative & Designer Shot Glasses?
When it comes to shot glasses, gone are the days of plain, nondescript vessels that simply served the purpose of holding your favorite spirits.
Today, shot glasses have transformed into a canvas for creativity, allowing brands and individuals to make a bold statement with their libation accessories.
Enter decorative and designer shot glasses – miniature marvels that pack a punch of style and personality.
Designer shot glasses are crafted with meticulous attention to detail, combining artistic flair with functionality.
These unique creations captivate the eye and elevate the drinking experience.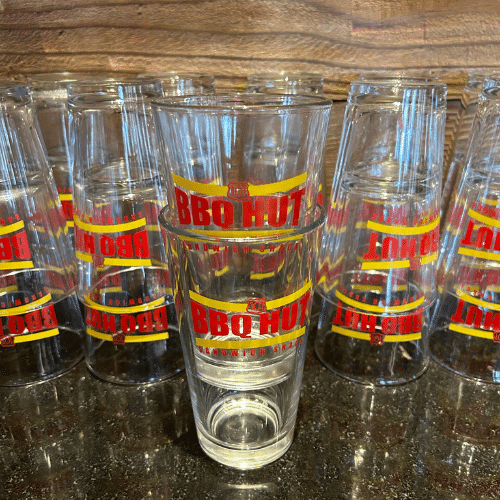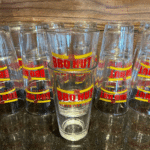 Whether you're looking for a touch of elegance, a pop of color, or a whimsical design, there's a designer shot glass out there that's just waiting to become a conversation starter.
Custom shot glasses take personalization to a whole new level. They offer the opportunity to imprint your brand logo, slogan, or even a special message onto the glass surface.
These printable shot glasses become more than just drinking vessels; they become powerful marketing tools that leave a lasting impression on your customers, clients, or event attendees.
One of the most exciting aspects of decorative shot glasses is the possibility of creating a cohesive set.
A decorative shot glass set is a collection of glasses that complement one another, whether through a shared theme, design elements, or a coherent color scheme.
These sets not only provide an aesthetic appeal but also enhance the overall experience of enjoying a round of shots with friends, colleagues, or fellow enthusiasts.
Whether you're in the hospitality industry, organizing an event, or seeking unique merchandise for your brand, decorative and designer shot glasses offer a myriad of possibilities.
They embody the essence of creativity and provide an opportunity to showcase your style, values, and brand identity through a tiny yet impactful medium.
In the next section, we'll dive into the various styles of decorative and designer shot glasses available, so you can discover the perfect expression of your brand or personal taste.
So, get ready to explore the vast world of shot glass artistry and uncover the style that will truly make your shots stand out from the crowd.
From elegant to eccentric, and everything in between, we'll explore the diverse range of shot glass styles that will take your breath away. Stay tuned!
Different Types of Decorative & Designer Shot Glass Styles
When it comes to decorative and designer shot glasses, the options are as vast as your imagination.
From novelty creations to customizable masterpieces, there's a shot glass style to suit every taste and occasion.
Let's take a closer look at some of the most popular styles that will add a touch of flair to your shot game.
Novelty Shot Glasses: If you're looking to inject some fun and playfulness into your shot glass collection, novelty shot glasses are the way to go. These whimsical creations come in a variety of shapes, sizes, and themes. From shot glasses shaped like mini cowboy boots to ones that resemble laboratory beakers, the possibilities are endless. Novelty shot glasses are perfect for themed parties, bachelor/bachelorette events, or simply adding a dose of laughter to your drinking routine.
Customizable Shot Glasses: Want to make a statement that is uniquely yours? Customizable shot glasses are your answer. These gems allow you to imprint your brand logo, personalized message, or artwork directly onto the glass surface. Whether you're promoting your business, celebrating a special occasion, or creating personalized gifts, customizable shot glasses offer endless creative possibilities. They serve as a memorable keepsake that leaves a lasting impression on anyone who takes a shot with your branded glassware.
Printed Glassware: Printed shot glasses are a fantastic way to incorporate intricate designs, patterns, and images onto the surface of the glass. From vibrant graphics to delicate illustrations, the artistry of printed glassware knows no bounds. Whether you're seeking a modern and minimalist design or a bold and eye-catching pattern, printed shot glasses allow you to express your style and create a visually stunning collection.
Personalized Glassware: Make your shot glasses truly one-of-a-kind by opting for personalized glassware. Engraving techniques can etch names, initials, or special dates onto the glass, creating a timeless and elegant effect. Personalized shot glasses are ideal for weddings, anniversaries, or corporate gifts, as they embody the essence of individuality and thoughtfulness.
Now that you're familiar with the various styles available, it's time to decide which one best aligns with your brand or personal preferences. In the next section, we'll delve into the key factors to consider when choosing the perfect design for your decorative and designer shot glasses.
Hold on tight and prepare to uncover the ultimate style that'll turn your shots into pure magic!
How To Choose The Right Design for Your Decorative & Designer Shot Glasses
Choosing the right design for your decorative and designer shot glasses is an exciting opportunity to showcase your brand or personal style.
Whether you're looking for custom engraved shot glasses, design ideas for personalized shot glasses, or the perfect custom logo on a glass cup, here are some key factors to consider when selecting the design that will truly make your shot glasses shine.
Reflect Your Brand Identity: If you're representing a business or organization, it's essential to choose a design that aligns with your brand identity. Consider incorporating your logo, tagline, or key brand elements onto the shotglass. This helps reinforce brand recognition and creates a cohesive experience for your customers or event attendees. Consider the emotions and values you want your brand to evoke, and translate them into a visually appealing design.
Capture the Essence of the Occasion: Whether it's a wedding, corporate event, or promotional campaign, the occasion itself can inspire the design of your shot glasses. For weddings, consider elegant and timeless designs that reflect the couple's style or incorporate their names and wedding dates. Corporate events may call for a design that showcases your company's professionalism while still adding a touch of creativity. Tailoring the design to the occasion creates a memorable experience for your guests or recipients.
Get Creative with Design Ideas: When it comes to personalized shot glasses, the design possibilities are endless. Brainstorm design ideas that resonate with your target audience or personal taste. Explore various fonts, patterns, and graphics that capture the essence of what you're trying to convey. From sleek and sophisticated to bold and vibrant, let your imagination run wild. You can also consider incorporating relevant symbols or icons that represent your industry or event theme.
Custom Logo on a Glass Cup: If you're focused on branding and marketing, placing your custom logo on a glass cup is an effective way to create brand exposure. Ensure that your logo is clear, legible, and visually appealing when translated onto the shot glass. Consider the color scheme and size of the logo to ensure it stands out while maintaining a harmonious design. The custom logo on a glass cup not only serves as a promotional tool but also adds a touch of professionalism and exclusivity to your shot glasses.
Seek Professional Guidance: If you're unsure about the design direction, don't hesitate to seek the guidance of professionals who specialize in custom shot glass creations. They can provide valuable insights, suggest design options, and help bring your vision to life. Their expertise in design and printing techniques ensures that your shot glasses will be visually stunning and crafted with precision.
By considering these factors, you'll be well on your way to choosing the perfect design for your decorative and designer shot glasses. In the next section, we'll uncover where to find unique shot glasses that meet all your customization needs.
So, let's continue our quest for the perfect shotglass!
Where to Buy Unique Decorative & Designer Shot Glasses?
When it comes to finding unique decorative and designer shot glasses that perfectly align with your vision, look no further than JNP Merchandising – your go-to online merchandising company specializing in branded glassware for a wide range of events and occasions.
From weddings to grand openings for restaurants, JNP Merchandising offers an extensive collection of shot glasses that will elevate your brand or personal style.
As an all-around online merchandising company, JNP Merchandising understands the importance of creating memorable experiences through customized products.
Their expertise in branded glassware ensures that you can find the perfect shot glasses to leave a lasting impression on your guests, clients, or event attendees.
By partnering with JNP Merchandising, you gain access to their vast selection of designer shot glasses. Whether you're looking for novelty creations, customizable options, printed glassware, or personalized designs, JNP Merchandising has got you covered.
Their commitment to quality ensures that you receive top-notch products that combine artistry and functionality.
Shopping at JNP Merchandising's online store is a breeze, offering you the convenience of browsing their extensive catalog from the comfort of your own space.
With just a few clicks, you can explore different styles, compare options, and discover the shot glasses that best suit your event or brand needs.
If you require bulk purchases or wholesale orders, JNP Merchandising is well-equipped to fulfill your requirements.
Their expertise in providing branded glassware for events allows them to offer competitive pricing and flexible options to accommodate your specific needs.
Whether you're hosting a grand wedding or launching a new restaurant, JNP Merchandising can provide you with the quantities you need to make a statement.
JNP Merchandising prides itself on exceptional customer service and attention to detail.
Their knowledgeable team is ready to assist you throughout the purchasing process, offering guidance, answering questions, and ensuring a seamless experience from start to finish.
When it comes to finding unique decorative and designer shot glasses for your special event or brand promotion, JNP Merchandising is the ultimate destination.
With their expertise in branded glassware and dedication to customer satisfaction, they are committed to helping you create unforgettable moments.