Thanksgiving is a time of gratitude, togetherness, and delicious feasts. But it's also a season for businesses and individuals to express their appreciation and celebrate the spirit of giving.
As we dive into 2023, the importance of Thanksgiving gifts and embracing the latest merchandise trends cannot be overstated. In this article, we'll explore the significance of Thanksgiving gifts, and together, we'll discover exciting and trendy Thanksgiving merchandise ideas that will elevate your celebrations to new heights.
But first, here's a statistic that might pique your interest: Did you know that in 2022, the Thanksgiving holiday saw a staggering $5.4 billion spent on online shopping in the United States alone?
That's an impressive 12% increase from the previous year, reflecting a growing enthusiasm for Thanksgiving-related merchandise. This statistic underscores the fact that Thanksgiving isn't just about turkey and pie—it's also a prime opportunity for businesses and individuals to connect, express gratitude, and create memorable moments through thoughtful gifts and trendy merchandise.
So, whether you're a business owner looking to capture the essence of Thanksgiving in your product offerings or an individual searching for unique ways to express gratitude to your loved ones, join us as we delve into the world of Trendy Thanksgiving Merchandise Ideas for 2023.
Together, we'll uncover exciting trends, innovative gift options, and creative ways to make this Thanksgiving season truly unforgettable.
Trendy Thanksgiving Home Décor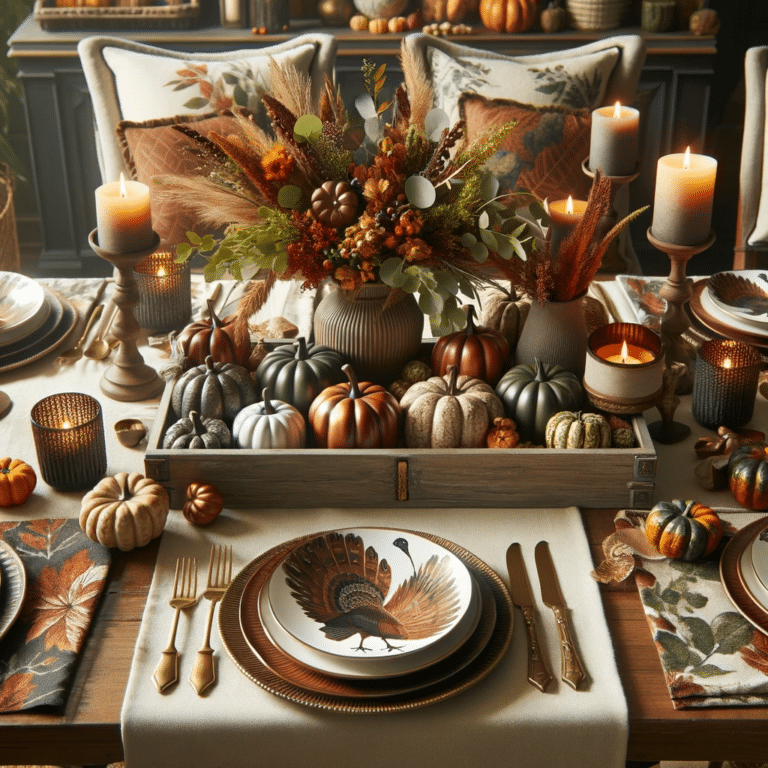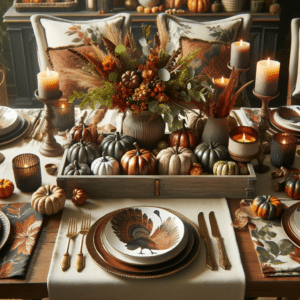 Stylish Thanksgiving Tablescapes
When it comes to hosting a memorable Thanksgiving gathering, the ambiance you create can be just as important as the turkey itself. That's where stylish Thanksgiving tablescapes come into play.
Elevating your dinner table with elegant dinnerware, eye-catching centerpieces, and fall-inspired linens can transform your space into a warm and inviting haven for your guests.
Elegant Dinnerware: Upgrade your tableware with chic and seasonal options. Consider investing in porcelain or ceramic plates adorned with autumnal motifs like leaves, pumpkins, or turkeys. Real-world example: A set of four Thanksgiving-themed dinner plates can cost anywhere from $20 to $50, depending on the quality and design.
Eye-Catching Centerpieces: A well-designed centerpiece can be the focal point of your Thanksgiving table. Incorporate elements like rustic wooden trays filled with candles, gourds, and pinecones. Alternatively, you can opt for a floral centerpiece featuring rich, earthy tones and accents of gold. Real-world example: A DIY centerpiece using readily available materials might cost around $20, while a professionally crafted floral arrangement could range from $50 to $100.
Fall-Inspired Linens: Don't forget to dress your table with seasonally appropriate linens. Consider using tablecloths or table runners in warm hues such as deep orange, burgundy, or forest green. Linens adorned with fall-themed patterns like acorns or harvest wreaths add a touch of sophistication. Real-world example: A fall-themed tablecloth can be found for as little as $10, while higher-end options might go for $30 or more.
Cozy Throw Pillows and Blankets
As the temperature drops and guests settle in, providing cozy throw pillows and blankets can make your home feel like a warm and welcoming retreat. These home decor items not only add comfort but also contribute to the overall aesthetic of your Thanksgiving celebration.
Trendy Throw Pillows: Spruce up your living room or dining area with throw pillows in autumnal colors and patterns. Opt for pillows featuring plaid, tartan, or embroidered fall motifs like pumpkins or fall foliage. Real-world example: A set of two stylish throw pillows can range from $20 to $50, depending on the design and quality.
Autumn-Themed Blankets: Keep your guests snug and cozy with soft blankets that embody the spirit of fall. Look for blankets made of warm, fuzzy materials and adorned with autumn-inspired patterns or quotes. Real-world example: A high-quality autumn-themed blanket can cost anywhere from $30 to $70, offering both warmth and style to your space.
By investing in trendy Thanksgiving home decor like stylish tablescapes, throw pillows, and blankets, you not only enhance the atmosphere of your Thanksgiving celebration but also create lasting memories for your guests.
These real-world examples and cost evaluations should give you a clear idea of how to achieve a welcoming and trendy ambiance in your home this Thanksgiving season.
III. Trendy Apparel and Accessories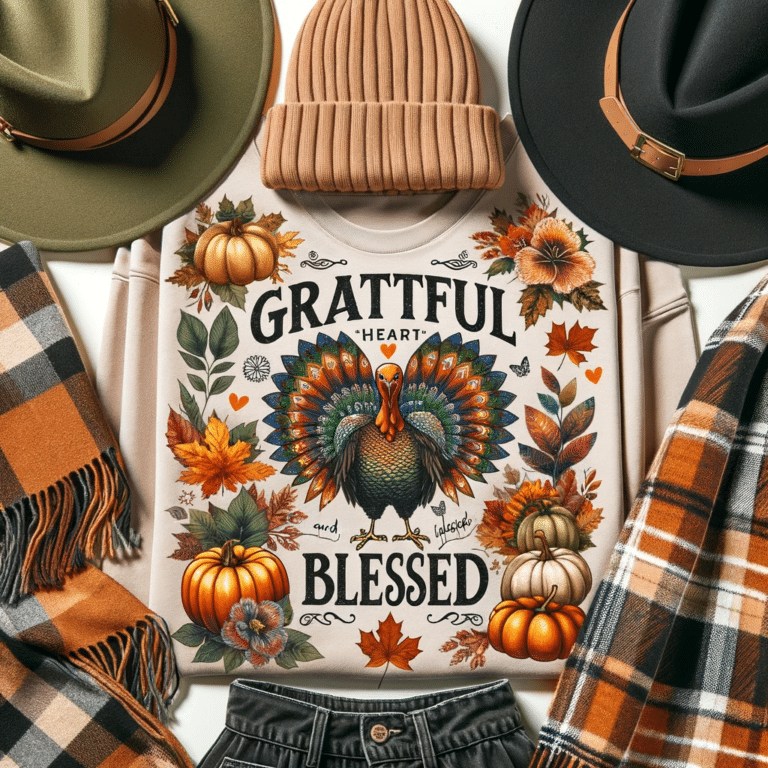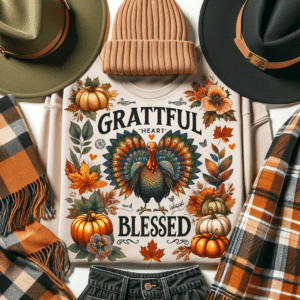 When it comes to embracing Thanksgiving merchandise trends in 2023, don't forget to incorporate stylish apparel and accessories into your celebration. These fashionable items not only add a touch of flair to your Thanksgiving ensemble but also allow you to express gratitude in style.
Graphic Tees with Thankful Messages
Why not wear your gratitude on your sleeve—or, in this case, on your chest?
Graphic tees with thankful messages have become a trendy way to spread gratitude while making a fashion statement. Whether you're hosting a Thanksgiving gathering or attending one, these shirts are perfect for the occasion.
Thankful Quotes: Look for graphic tees that feature expressive and heartfelt thankful quotes. Messages like "Grateful Heart" or "Thankful and Blessed" are not only on-trend but also convey the true spirit of Thanksgiving. Real-world example: A stylish thankful graphic tee can be found for around $15 to $30.
Seasonal Prints: Embrace the fall season by choosing shirts with autumn-themed graphics, such as leaves, pumpkins, or turkeys. These prints capture the essence of Thanksgiving and add a festive touch to your outfit. Real-world example: A graphic tee with a seasonal print may cost between $20 and $40.
Fashionable Hats and Scarves
As the temperatures drop and the leaves change colors, staying warm and fashionable becomes a priority. Trendy hats and scarves designed for the autumn season are a perfect way to achieve both comfort and style during Thanksgiving festivities.
Stylish Hats: Invest in fashionable hats that complement your Thanksgiving attire. Options like wide-brimmed fedoras or berets in autumnal colors can instantly elevate your look. Real-world example: A trendy fall that can range from $20 to $50, depending on the brand and style.
Cozy Scarves: Wrap yourself in warmth and elegance with scarves made from soft, luxurious materials. Look for scarves featuring fall-inspired patterns, such as plaid or houndstooth, to embrace the season's fashion trends. Real-world example: A high-quality autumn-themed scarf may cost between $20 and $60, offering both style and comfort.
By incorporating trendy apparel and accessories like graphic tees with thankful messages, stylish hats, and cozy scarves into your Thanksgiving wardrobe, you not only express your gratitude but also showcase your fashion-forward sensibilities.
These real-world examples provide a glimpse into how you can stay stylish and cozy throughout the autumn season and beyond.
IV. Trendy Kitchenware and Cooking Essentials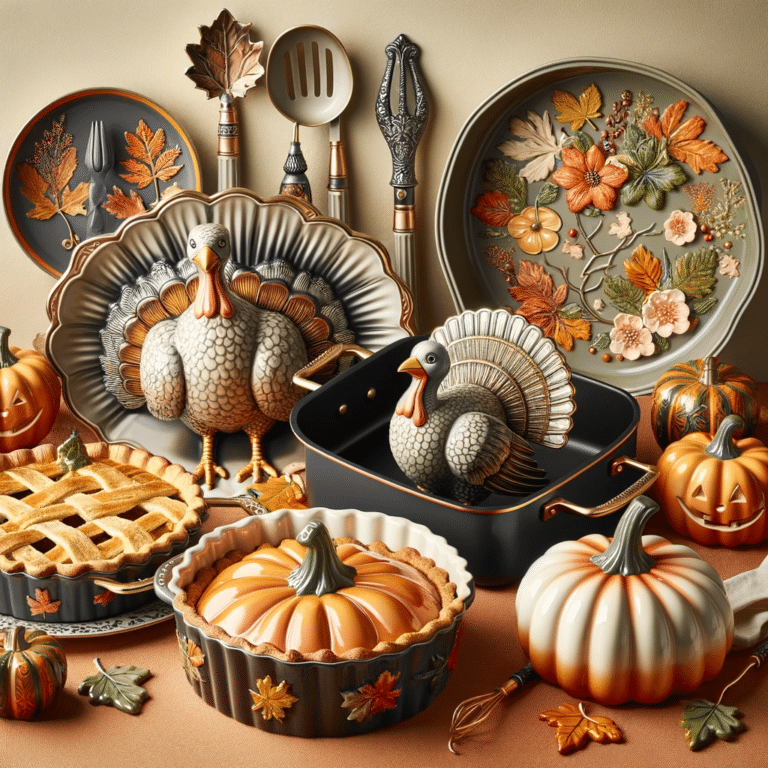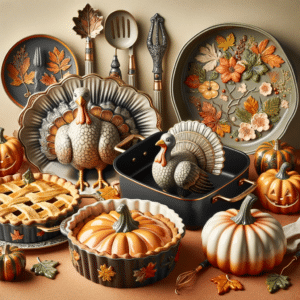 Thanksgiving is not only about the delicious food but also the joy of cooking and sharing meals with loved ones. Elevate your culinary experience and embrace Thanksgiving merchandise trends in 2023 by investing in trendy kitchenware and cooking essentials. These items not only make cooking more enjoyable but also add a stylish flair to your Thanksgiving preparations.
Festive Cookware and Bakeware
Cooking for Thanksgiving can be a delight when you have festive cookware and fall-inspired bakeware to work with. These trendy kitchen items not only enhance your cooking experience but also add a touch of fun to your culinary creations.
Turkey-Shaped Roasting Pans: Roasting the Thanksgiving turkey takes center stage, and what better way to do it than in a turkey-shaped roasting pan? These whimsical pans not only make cooking easier but also add a festive touch to your kitchen. Real-world example: A turkey-shaped roasting pan can be found for around $25 to $50.
Pumpkin-Shaped Pie Dishes: Baking pies is a Thanksgiving tradition, and using pumpkin-shaped pie dishes adds an extra layer of charm to your dessert table. These bakeware items are not only practical but also visually appealing. Real-world example: A pumpkin-shaped pie dish may cost between $15 and $30, depending on the size and quality.
Creative Serving Platters and Utensils
Presentation is key when it comes to Thanksgiving feasts, and creative serving platters and utensils can help you showcase your culinary creations with style and flair.
Fall-Themed Serving Platters: Choose serving platters adorned with autumnal designs like leaves, acorns, or harvest motifs. These platters can elevate the look of your Thanksgiving spread and make your dishes even more appetizing. Real-world example: A fall-themed serving platter can range from $20 to $40, depending on size and material.
Stylish Serving Utensils: Don't forget about the utensils you use to serve your delectable dishes. Opt for serving utensils with elegant handles or intricate designs that match your overall Thanksgiving theme. Real-world example: A set of stylish serving utensils can be found for around $15 to $30, depending on the quality and craftsmanship.
By incorporating trendy kitchenware and cooking essentials like festive cookware, bakeware, creative serving platters, and stylish utensils into your Thanksgiving preparations, you can enhance not only the flavors but also the visual appeal of your dishes.
These real-world examples provide a glimpse into how you can infuse creativity and style into your Thanksgiving cooking and presentation.
V. Trendy Thanksgiving Gifts
Thanksgiving is not just about gathering around the table for a feast; it's also a time to express gratitude and appreciation to those we care about. In 2023, as you explore Thanksgiving merchandise trends, consider giving trendy Thanksgiving gifts that convey your heartfelt sentiments. These thoughtful presents will not only spread joy but also capture the essence of the holiday.
Customized Gratitude Journals
Encourage reflection and thankfulness with trendy gratitude journals and personalized notebooks. In a fast-paced world, taking a moment to jot down our thoughts of gratitude can be a meaningful and mindful practice.
Gratitude Journals: Consider gifting beautifully designed gratitude journals with prompts to help individuals express what they are thankful for each day. These journals can serve as a daily reminder to focus on the positive aspects of life. Real-world example: A stylish gratitude journal can range from $15 to $30.
Personalized Notebooks: For a more personal touch, opt for customized notebooks with the recipient's name or a special message on the cover. These notebooks can be used for writing down thoughts of gratitude, making them a thoughtful and unique gift. Real-world example: Personalized notebooks can be found for around $10 to $20, depending on the customization options.
Festive Gift Baskets
Curate thoughtful packages with trendy Thanksgiving gift baskets filled with autumn-themed goodies. These gift baskets are not only a delightful surprise but also a way to share the warmth and flavors of the season with loved ones.
Gourmet Treats: Fill your gift baskets with gourmet treats like artisanal chocolates, spiced nuts, or seasonal jams and preserves. These goodies capture the essence of Thanksgiving and make for delicious indulgences. Real-world example: A gourmet treat-filled gift basket may cost between $30 and $60, depending on the selection and quantity of items.
Cozy Essentials: Create gift baskets featuring cozy essentials such as scented candles, soft blankets, and mugs. These items offer warmth and comfort during the fall season and make for a thoughtful gesture. Real-world example: A cozy essentials gift basket can range from $40 to $80, depending on the contents and quality.
By gifting customized gratitude journals and trendy Thanksgiving gift baskets, you not only express your appreciation but also provide recipients with tangible reminders of the season's spirit.
These real-world examples offer insights into how you can make your Thanksgiving gifts both meaningful and on-trend, ensuring that your loved ones feel truly cherished during this special time of year.